The first 3 weeks of the new term have flown past and I shall this first blog of the session to summarise the highlights
Staff Changes:
In April I was appointed to the role of Convener of General Teaching Council Scotland (GTCS) and chair the council of the regulatory body who oversee the 75,000 registered teachers in Scotland.  It is a significant role on top of my main job as Head Teacher of Harlaw Academy and it brings considerable benefit back to the school.
In order to ensure that Harlaw Academy was not disadvantaged and to support me in my role the Local Authority agreed to appoint someone to cover for me.  Interviews were held before summer for someone to cover half of the week as Acting Head Teacher.  Mr Graham Blance was the successful applicant and we were delighted to welcome him to his new role when school returned in August.
Over the last couple of years Mr Blance has served as a Quality Improvement Officer and had spells as Acting Head Teacher at both Bucksburn Academy and Kincorth Academy.  His considerable experience is already proving to be extremely valuable and I am confident it will benefit Harlaw and be a case of "two Heads being better than one".
Mr Blance is one of our Depute Head Teachers and he will continue to have this role when he is not Acting Head Teacher.  In order to support him we have appointed Miss Angela McLennan to be Acting Depute Head Teacher for half the week.  Miss McLellan is our Head of Technologies and we will be interviewing for someone to fill her post for half a week soon.
Other staff who we welcomed to Harlaw in August were Mr Biggart (English), Mrs Taylor (Science) and Mr Smith (Maths).  At present we are in the very fortunate position of being fully staffed but have a couple posts advertised as we know of some changes which are around the corner.
I must also mention the arrival of Wispa our guide dog.  Many of you will be aware that Vadar passed away before summer and we were really pleased to hear that Mrs Brodie was to get a new dog and even more pleased at how she has settled into the school.
Head Prefects:  
On our return we conducted group interviews for our Head Prefects.  The 21 applicants took part in a group interview and were assessed by the 3 former Head Prefects along with Mr Blance and myself.  We were very pleased with the standard of applicants but having gone through the selection process we have appointed Weronika as our Head Prefect and she will be assisted by Claire and Luisa as our Depute Head Prefects.  They are in the process of appointing their team of Prefects and have already helped at our Former Pupil Coffee morning, attended assemblies, supported our new S1s and our Health and Well being event.
SQA results and Expectations for this session:  
We were pleased with the SQA results and particularly pleased with how pupils had done in their Highers and Advanced Highers.  We have a bit of work to do to ensure more S4 pupils get at least 6 full qualifications in S4, more S5 pupils get at least 5 full qualifications and S6 pupils get at least 4 full qualifications – at present some fall short of the full qualification or miss out on one completely and we need to demand more of them.  We are setting ever increasing expectations and before pupils returned we sent parents a leaflet to read through with their children.  At the initial assemblies we revisited this along with the expectations on uniform.  Links to both are included here:
Expectations flier August 2018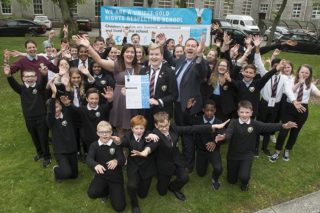 Praise for our new S1 pupils (and their 'buddies'):
There was a time when we had a school full of S1 pupils being escorted round the school.  In recent years we have worked to have link events and this year our local pupils had 6 subject link days and 3 transition days prior to arriving in August.  As a result they have settled in more quickly and are already getting on with the work.  I want to pay tribute to them and to the 'buddies' who have helped through the visit days and into the early days here.
Pupil empowerment in school improvement
We are a Gold Rights Respecting School, indeed we were the first Secondary in UK to gain the new Gold Award from UNICEF UK.  This means we try to recognise and realise the rights of Children in all that we do.  So when pupils asked us in April to improve the water fountains we got busy and they were installed over the summer holidays.  when pupils asked us to promote extra curricular clubs we ran a 'sign up' session in the hall last week.  When we updated the school vision we spoke with around 100 pupils and incorporated their ideas into the new version and when we wrote the school improvement plan we asked pupils what they wanted to see in it.  Pupils in Harlaw Academy should feel valued and empowered to improve their school.  Each class has elected 4 representatives to seek views of their classmates on – improvements, sports, rights and charities and every pupil is a member of the pupil forum.  We have even given pupils £3000 to spend on the priorities they identify.
Other partners:
We had our first meeting with the Head Teachers of our local Primaries last week and part of this was spent finalising the arrangements for an event aimed at helping parents of P6-S2 youngsters.  We had stalls on loads of things including books on teenage issues, cyber security, active schools and lost more
We also had a really well attended Former Pupil Coffee morning which included tours of the school and a chance to look through the FPs growing collection of memorabilia.
Finally, on Thursday 13th September 7.00-8.30 we have the first meeting and AGM of our Parent Council all parents are welcome to attend as members of the Parent Forum and can stand for election onto the council.
If you have reached this far can I thank you as I know it has been a long read.  I hope it was also a very encouraging read as it gives you a flavour of the amount and variety of the work which is going on here at the school.  Whilst my National role is very enjoyable my main focus remains on doing the very best for the children and young people of Harlaw Academy and on supporting their families.  I look forward to meeting you through the session and if you have any questions or concerns please do not hesitate to get in contact with me, one of the year Heads or one of the Guidance staff.  We want to hear from you and we are here to help you.